Spring is in bloom and the colors of the flowers, green grass and budding tress are a welcome respite from the darker skies and gray washed landscape and colder weather winter delivered.
Flowers just have a way of brightening up any space, reminding us to slow down and pay homage to the beauty and depth of Mother Nature. Whether they be the splash of wild flowers on the roadside or in the field, or lovingly cared for and planted in a garden they can be a wonder to behold.
But what about admiring them from our plates? Yes, you read that correctly, our plates.
Edible flowers can be used to add flavor, fragrance, and color to a plethora of dishes. Dishes including soups, salads, entrees, desserts, and drinks all have popular recipes containing edible flowers. Both beautiful and beneficial, why of course!
Edible flowers can also include herb, vegetable and fruit blooms as well as flowers and have been used back as far as 3000 BCE.1 These buds have trended during different time periods since then, but recently edible flowers have made quite the comeback. From the tables of 5-star restaurants, to burning up the internet on various blog post recipes, to prime-time television cooking demos- edible flowers are functional and savoring their time in the limelight.
Where can you find these edible additions you ask?

You can put that green thumb to work and grow your own or look for them in local hot spots. They are becoming increasingly more common to find at higher-end grocery stores, specialty health shops, farmers' markets and online.
These flowers can be incorporated into dishes in a variety of ways, in some cases you wouldn't even know they were there if it weren't for the sensationally flavorsome experience. The simplest way to try this trend is by simply tossing flower buds into any salad or adding as a garnish to your dinner for a fresh, new taste. Edible flowers can be dried, mashed, or ground into a paste. They could also be stuffed, fried or candied such as candied pansy and viola flowers. Some whole flowers or petals can be sautéed or grilled, such as a zucchini blossoms. You can even find specialty oils, vinegars and liqueurs infused with these herbs and flowers too!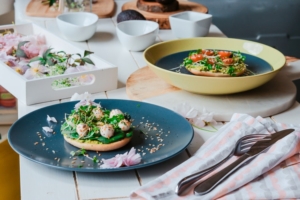 In addition to the added colorful aesthetics and fresh taste, adding a floral or herb to a dish can enhance the micronutrient composition of the recipe as well. These plants are full of micronutrients and antioxidants such as potassium, phosphorous, calcium, magnesium, sodium, iron, manganese, copper, zinc.
Before you begin adding these wonderful plants to meals, it is important to be cautious as to which plants and how to incorporate properly. Not all flowers are edible. Some flowers simply do not have a pleasant taste, but others can be poisonous or cause allergic reactions.
When choosing flowers to consume remember a few of these tips: 2,3
Consult the grower or distributor to be sure they haven't been treated with pesticides or herbicides.
Wash flowers thoroughly, removing the stamen and pistil before eating. To prevent wilting, wait to remove the petals from the rest of the flower until just prior to serving.
Try one type of flower/herb at a time to be sure to avoid any adverse allergic reactions. Consumers with allergies to pollen should proceed with caution before eating any flowers.
Remove stamens, containing pollen, and pistils from flowers before tasting. Pollen may affect the taster's allergies or may distract from flower's flavor.
Now that you have a better understanding as to what edible flowers are, hopefully you will be excited to give this trend a try. With thousands of websites for these floral recipes all over the internet, finding one you and your family would enjoy will be a breeze!
When used correctly, edible flowers could be just the burst of freshness your spring dishes are missing!
If you have any further questions about this trend, feel free to leave a comment or question below, I'd love to give you any advice or helpful tips I can!
References
What Nutritional Contribution Do Edible Flowers Make? – JAND Article by E Cunningham
Edible Flowers: A Nourishing Nosegay April 28, 2015 Meagen Sassman= https://foodandnutrition.org/may-june-2015/edible-flowers-nourishing-nosegay
A Consumer's Guide to Edible Flowers- https://extension.psu.edu/a-consumers-guide-to-edible-flowers