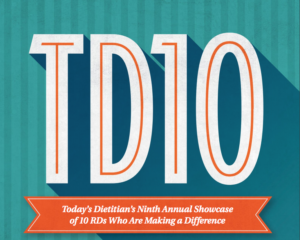 National Nutrition Month is such an exciting time in the world of nutrition and dietetics.
To add to this thrill – I am humbled and honored to have been nominated by my colleagues and chosen as one of Today's Dietitian's Top 10.
" I could not be more enthusiastic and thankful for this family of nutrition professionals enhancing lives, protecting the planet, and advocating for the environment all with passion and integrity everyday.
Congratulations to my fellow colleagues and those not mentioned this time around, there are so many exceptional RDNs and RDNs to be. I look forward to the continued growth of our field, the recognition of nutrition as THE foundation for life and paving those positive pathways together!" – Monique
View this full article here: http://www.todaysdietitian.com/newarchives/0318p30.shtml
Happy National Nutrition Month from Nutrition-In-Sight!