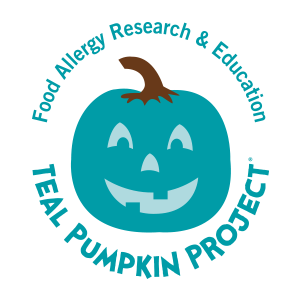 Guest post from Eliza Mellion, MS, RDN, CPT
Have you heard? Food Allergy and Research Education (FARE) has launched a global movement to create a safer, more inclusive, and happier Halloween for ALL children – introducing the Teal Pumpkin Project®!

Did you know that one in 13 kids has food allergies? Halloween can be an overwhelming and difficult holiday for children and families affected by food allergies, food intolerances, celiac disease, colitis, and other special diets. Most traditional halloween candies for trick-or-treaters are not safe for children with life-threatening allergies.
The Teal Pumpkin Project® (Teal – the color of food allergy awareness) was inspired by awareness activities run by the Food Allergy Community of East Tennessee, and established to raise awareness of food allergies and foster inclusion for all trick-or-treaters!
What can you do?? Promote non-food treat alternatives for kids with food allergies, as well as other children who may not be able to consume candy. Place your house on the Teal Pumpkin Project® map and mark it as a safe haven for families living with special diets and allergies.
I love the The Teal Pumpkin Project® because it's all about respect, safety, and inclusion in the fun and celebration that makes Halloween so special!
This year, consider offering non-food treats alongside the candy you pass out. Low-cost ideas include:
Glow bracelets
Colorful pencils, pens, and halloween erasers
Stickers and stencils
Bubbles or bouncy balls
Spider rings
Vampire Fangs
Small slinkies
Support the Teal Pumpkin Project® with these FREE resources, and connect to others participating in the project with the Teal Pumpkin Project® Map. Plus, kick things off right with their 2018 promo video!

Post a comment:
Or to schedule an appointment, click here.