Integrative Nutrition puts all the components together.
From the knowledge attained as a registered dietitian nutritionist to the many components of integrative and functional medicine — an Integrative RDN combines it — and takes it a step further to dig a little deeper.
Are you looking for more than conventional nutrition and diet advice?  If the answer is yes, a Registered Dietitian Nutritionist who practices integrative and functional medicine, or an integrative RDN, may be right for you. Integrative and functional medicine takes into account five key areas of health, along with external factors individualized to the client: lifestyle, systems (signs and symptoms), core imbalances, metabolic pathways, and biomarkers. In fact, as I mention here, both personalized nutrition and integrative and functional nutrition are top 10 dietetic trends of 2017.
As I've mentioned in previous posts, while all dietitians are nutritionists, not all nutritionists are credentialed, registered dietitians—a very important distinction. The scope of practice, breadth of experience, and the ability to practice medical nutrition therapy (MNT) protected under the RDN credential. MNT explores and address the clinical, metabolic, and systemic factors behind acute and chronic diseases such as diabetes, cardiovascular disease, celiac disease, food allergies, hypertension and so much more.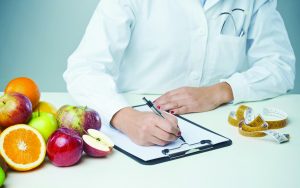 Integrative RDNs go one step further than traditional MNT, and approach each client in an individualized, holistic way. Integrative RDNs use functional medicine, an approach that doesn't just look to manage or prevent a disease, but takes a deeper look at the root causes, environmental impact, genetic predisposition, physiological, psychological and interdependent factors that contribute to disease. An integrative RDN may help you develop intervention and treatment plans that include both Western medicine approaches, along with more alternative and complementary care such as supplementing with herbs, probiotics or specific vitamins and minerals, eliminating specific foods, employing certain cooking methods, or using Ayurveda, Chinese medicine, homeopathy and naturopathy, to name just a few.
Take a look at the Integrative and Functional Medicine in Medical Nutrition Therapy Radial for an easy to understand visual representation.  Check out the Dietitians in Integrative and Functional Medicine Dietetic Practice Group, a great resource to find out more information or find an integrative RDN in your area.
Post a comment:
Or to schedule an appointment, click here.